Hi Gracie Humaita Sydney students and friends,
In order to celebrate the 2020 International Women's Day, we are glad to present a SPECIAL WEEK OFFER for females prospects!
The special offer rules follow as bellow. From 2nd to 7th March:
. Female prospects train for free. We aim to see the academy full of girls and women trying Jiu-Jitsu for their first time and/or as a great opportunity for your to return to the mats.
. Female prospects get 25% OFF on the signing fee.
. Female prospects get FREE Starter Pack (includes Gi + Rashie + T-Shirt).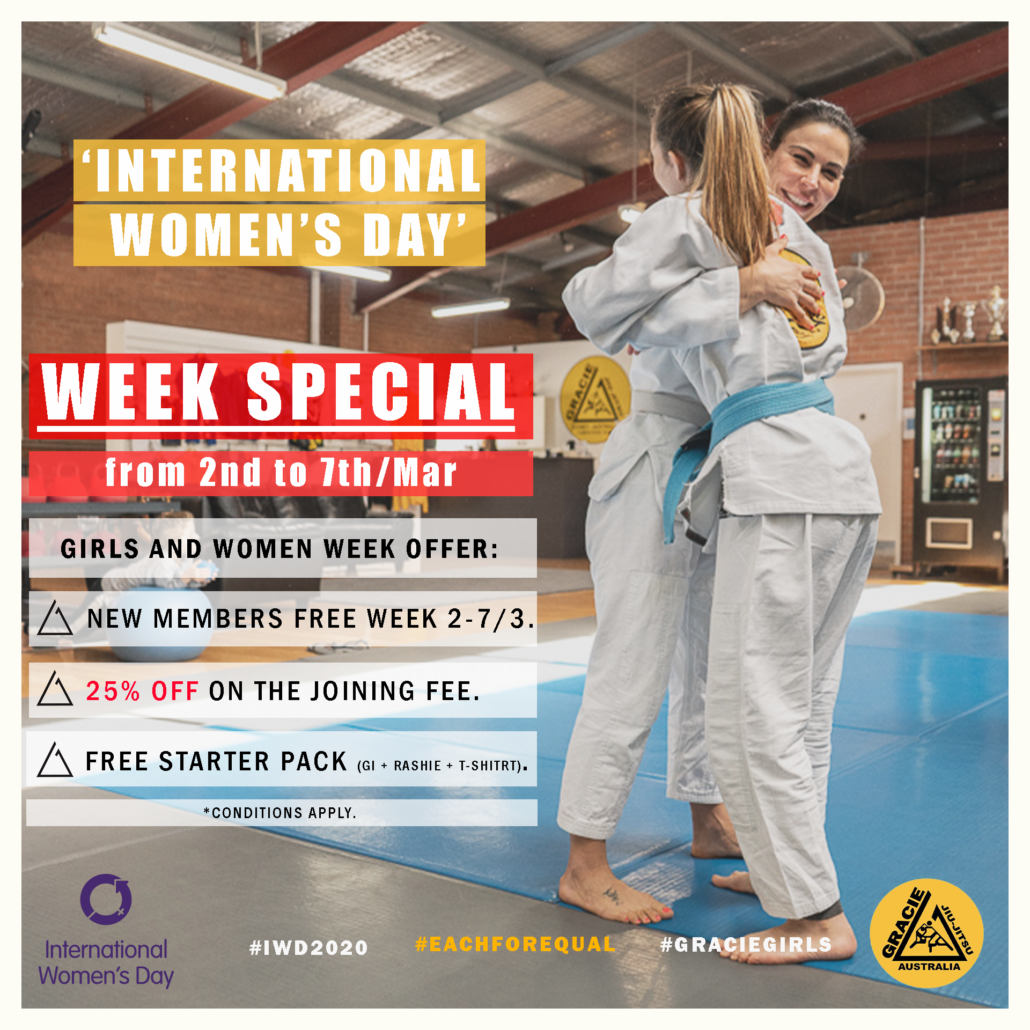 Starter pack:

The 2020 IWD campaign theme is #EachForEqual.
Individually, we're all responsible for our own thoughts and actions – all day, every day. We can actively choose to challenge stereotypes, fight bias, broaden perceptions, improve situations and celebrate women's achievements. Collectively, each one of us can help create a gender-equal world.
A gender-equal world can be healthier, wealthier and more harmonious – so why not through Brazilian Jiu-Jitsu?
Here at Gracie Humaita Sydney we strongly believe that the Gentle Art is empowering and very useful in today's world.
We have heard so many different stories of why girls started training with us and how they overcome bad experiences or just became more confident in their daily routine that we think it's a good opportunity to encourage more girls to come and train with us!
Follow us on @graciesydneyaus as we gonna honor our students with ONLY Girls content and encourage friends to come and have a FREE WEEK training from 2nd to 7th of March.
Let's all be #EachforEqual #GracieGirls. 
Gracie Humaita International Women's Day!
Address: 3/576 Botany Rd, Alexandria NSW 2015
Phone: (02) 8084 1978