Brazilian Jiu-Jitsu is more than a sport, it is a lifestyle. It is common hearing from a Black Belt grading their students: "Eat, Breath, and Sleep Jiu-Jitsu"! All learnings from the mats can be translated to our daily duties and relationships. And, of course, the life-style includes the connections with training partners that consequently become your best friends.
You may have seen our latest picture posted on @graciesydneyaus on Instagram featuring Aldwin and James, two of Gracie Humaita Sydney Jiu-Jitsu coaches that have been training together for over 11 years. Even the 10 years gap didn't block them to become close friends and achieve their goals together. Both are brown belts and became Gracie Humaita Sydney coaches almost at the same time.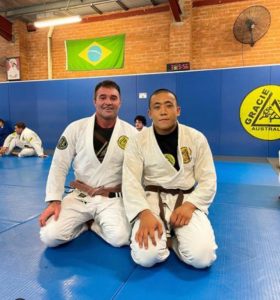 Aldwin and James is a mere example of many and many long term friendships that had to happen at Gracie Humaita in Australia. All black belt coaches that lead Gracie Humaita Affiliates are close friends. Professors Bruno Panno, Gracie Humaita Australia, and Marcos Nevel, Gracie Humaita Castle Hill, is our biggest example. Bruno and Marcos are Black Belts under Master Royler Gracie who started their journey together at Gracie Humaita in Rio.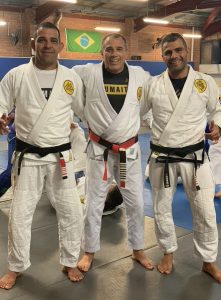 Bruno and Marcos have been friends for 30 years what made them collect heaps of stories in Brazil, Australia, and around the world competing, coaching, and giving seminars! So, if you are a current jiu-jitsu student is a good idea to invite a friend and enjoy more time with them on the mats. But, if you are willing to meet new friends, enrolling a membership at Gracie Humaita Sydney is a great idea!
Gracie Humaita Sydney offers a wide range of programs for all ages and levels. From Toddlers to Adults, boys and girls will build their confidence through self-defence based classes! Free INTRODUCTORY classes are offered every day from Monday to Friday at 11.45 am or 5.30 pm.
Book your Free Introduction HERE