To Celebrate March and International Women Day,  Gracie Sydney has decided to make a special month for all women from beginners to advanced to try out our amazing BJJ Program, Classes, and Facilities. Check it out!!!!
About the Program
Brazilian Jiu-jitsu is the perfect self-defence system for women, but only if it is taught correctly. If you're unsure about learning BJJ for fear of injury, embarrassment, or any other reason, then our gym and program are perfect for you! If you've tried BJJ at another school and had a negative experience, give us a chance, and we guarantee it will win you back to the mat!
The Mindset
Beyond the physical techniques, our program also reinforces awareness principles, risk assessment, and verbal and psychological strategies a woman can use to set safe boundaries with others – even if the perpetrator is someone she knows. At the core of this mindset is the belief that we are worth defending!
Promotion
 50% OFF ON THE SIGN-UP FEE
What is included:
– Book a Free Introduction Class
– Brand New Gi, Rashguard and T-Shirts
– Over 50 Classes per week
– No Lockup Contracts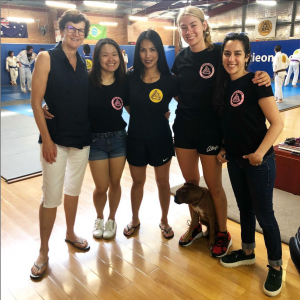 Come, learn self defence, be empowered, have fun and make new friends!!!!
Promotion Valid Until 31/03/2021