Our Mission
The Gracie Humaita Australia mission is to raise the physical confidence and overall wellness of students of all ages by teaching a complete and efficient self-defense skill set within a safe, clean, positive and respectful environment. We are committed to preserving the technical and philosophical roots of Gracie Jiu Jitsu as imparted to us by Grandmasters Helio Gracie, Royler Gracie and Rolker Gracie.
HEAD COACH: Bruno Panno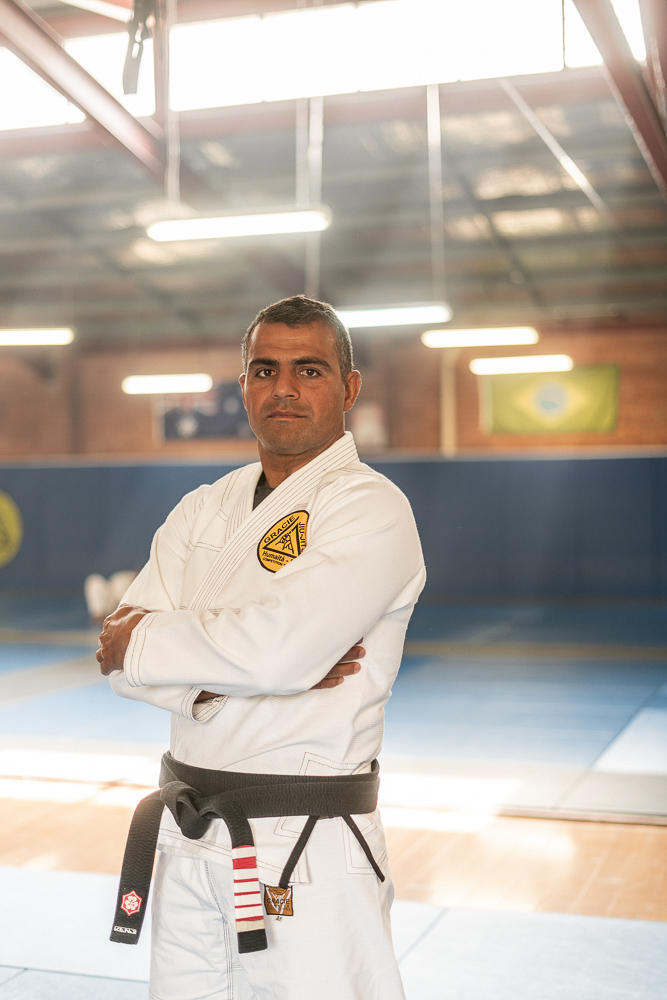 About Us
Gracie Sydney was founded in 2001 when Bruno Panno emigrated from Rio de Janeiro, Brazil, specifically to introduce Gracie Jiu Jitsu to Sydney, Australia.
Prof. Bruno Panno is a student of the Gracie family of Brazil, the founders of this style of Martial Art. After learning the art in the most prestigious academy in the world and being awarded his teaching qualifications directly from the arts founders, Bruno is the Gracie family's chief representative in Australasia.
Bruno was only eight years old when he started training Gracie Jiu Jitsu at the Gracie Humaita Academy in Rio de Janeiro in 1985. The Academy's director was grand master Helio Gracie, and Bruno trained under masters Royler and Rolker Gracie. The legendary Rickson Gracie was also coaching at Humaita during that time. When Bruno was nineteen, Royler and Rolker Gracie awarded him a purple belt, and invited him to work as an assistant instructor for the Gracie Academy, which he proudly did for five years.
On 31 March 2001, after three years of hard training as a brown belt, Bruno received his hard earned and desired black belt directly from the hands of Royler Gracie. Bruno arrived in Sydney in July 2001 with the goal of developing Gracie Jiu-Jitsu in Australia. In 2002, Bruno founded the NSW BJJ Federation and remains a director of the organisation today.
Since arriving in Australia and establishing Gracie Sydney's headquarters in Coogee, Bruno has established many Jiu Jitsu academies in the Sydney area. Bruno's passion and talent for teaching is exemplified in his success in sharing Brazilian Jiu Jitsu to such a diverse student base and where his dedication is producing Australian athletes of international standards.
In order to make your training more enjoyable at Gracie Humaitá, there are a few considerations you should be aware of while practising:
FRIENDSHIP
Gracie Humaitá Instructors shall reinforce the family spirit among students, parents, and other instructors. Their attitude must always be positive and cooperative in order to channel their creative energy towards the strength and the growth our family, always putting the teamn front of individual needs.
COOPERATION
Gracie Humaitá Instructors shall nurture and reinforce a cooperative environment inside and outside the dojo. They must ensure that the competitive realm is restricted to tournaments as well as the competitor attitude. They must make the students understand that progress is not reflected on their ability to overcome a training partner or a competitive opponent, but rather reflected on their capacity to engage on a cooperative training experience where the winner is whoever learns more.
DISCIPLINE
Gracie Humaitá Instructors shall constantly discipline the students and never punish them. They must make students understand that without discipline there is no mastery, neither in jiu-jitsu nor in life, and that without the willingness to sacrifice, excellence is just not possible.
RESPECT
Gracie Humaitá Instructors shall reinforce that students must act with warmth and equally toward one another, regardless of their differences. The belt ranks hierarchy must be respected and the authority of the black belt sincerely recognized.
CONTINUOUS IMPROVEMENT AND GROWTH
Gracie Humaitá Instructors shall reinforce that Brazilian Jiu-Jitsu is a life long journey with no ending point. Students must perceive the Black Belt as their minimum goal and that their progress represents an increasing commitment to their growth as BJJ practitioners and human beings.
BE AWARE OF YOUR HEALTH CONDITIONS 
As our student, you are responsible to let us know about any health condition that you have or had in the past. This way, we can ensure our coachers/teachers are aware about your limits and we can work together considering any special attention that you need. If you did not filled the Waiver form in the reception, make sure to fill and we can have all your records updated.
Fitter.Stronger.Happier
Gracie Jiu Jitsu
Academy Hours
Monday: 10am – 8:30pm
Tuesday: 6:30am – 8:30pm
Wednesday: 6:30am – 8:30pm
Thursday: 6:30am – 8:30pm
Friday: 10am – 8pm
Saturday: 9:30am – 1pm
Sunday: Closed